She is neither Joan of Arc nor a Palestinian puppet, but a emblem of two seconds traumatised generation, writes Guardian correspondent Harriet Sherwood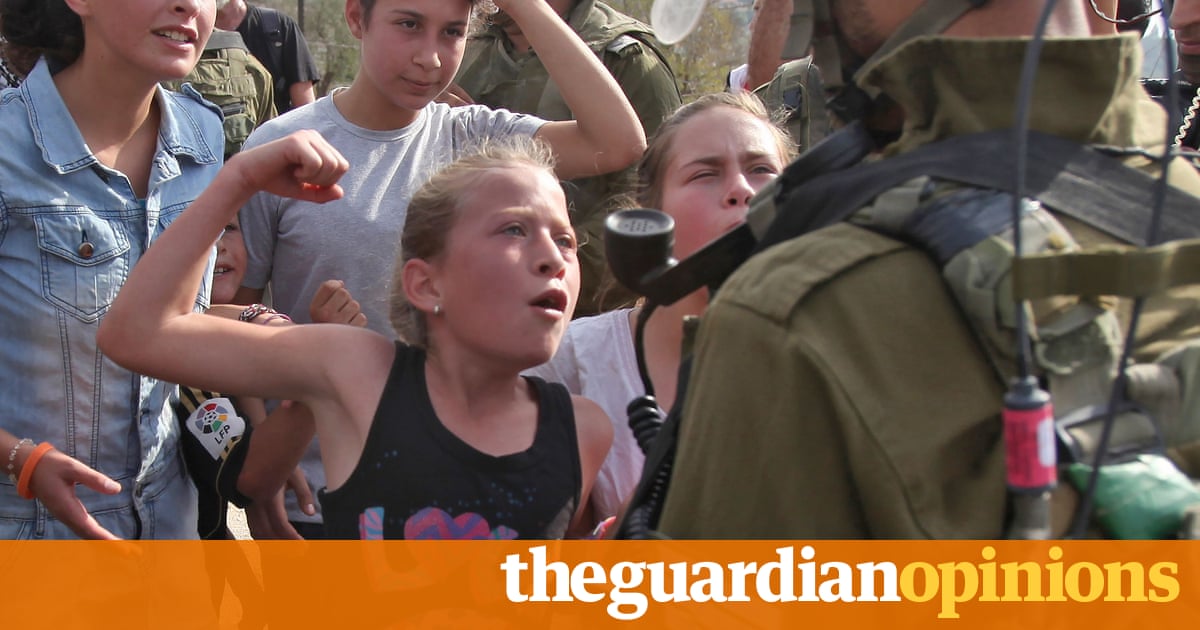 A little over four years ago, I drove to the West Bank village of Nabi Saleh to invest a period with a 12 -year-old girl. Her epithet was Ahed Tamimi, and I was interviewing her for a magazine article, Children of the Occupation: Growing up in Palestine.
We talked about her life in the village, the constant existence of soldiers, the demolition ordering on her home, mermaids, football and hopscotch. She was elfin, with an uneasy concoction of worldliness and naivety. Of the many children I met in the West Bank and Gaza over almost four years of encompassing the Israeli-Palestinian conflict for the Guardian, I observed Ahed one of the most disturbing.
By then, she was well known in pro-Palestinian circles. In 2012 a video presenting her angrily tackling an Israeli soldier used to go viral; Ahed was feted. Now, another video of her slapping and kicking an Israeli soldier has led to her being charged with assaulting security forces, provocation and hurling stones. The teenager is in custody awaiting trial.
The video and service charges have polarised sentiment. To many pro-Palestinian activists, Ahed is a emblem of opposition, small children hero, a freedom fighter. Comparisons have been drew attention to Malala Yousafzai and Joan of Arc. She has been lionised on social media, and publicly praised by the Palestinian president, Mahmoud Abbas. On the Israeli side, some have said she is a marionette of political mothers, she has been, schooled in violence, and that she deserves stiff punishment.
As usual, it is a little more complicated. Ahed is a member of the second generation of Palestinians to grow up under occupation. Her father, Bassem, was carry in 1967- the year Israel grabbed the West Bank, East Jerusalem, Gaza and the Golan Heights in the six-day war. He and his children have known only a life of checkpoints, identity papers, detentions, home demolitions, intimidation, humiliation and violence. This is their normality.
The family home is in Area C, the 62% of the West Bank that is under Israeli military control. Their village, Nabi Saleh, has been the scene of frequent demonstrations since Israeli settlers appropriated the local springtime a decade ago. Bassem and his wife, Nariman, and other members of the family have often been at the forefront.
Stones have been thrown by the protesters; Israeli armies have responded with teargas, rubber bullets, sea cannon and sometimes live ammunition. At least two villagers, including Ahed's uncle Rushdie, have been killed, hundreds injured, and at least 140 people detained or incarcerated- among them Bassem and Nariman, several times.
Ahed has grown up in this environment. When I asked her how often she had experienced teargas, she chuckled, saying she couldn't count the times. She described military raids on the family home. I find Ahed and her brothers as, over and over again, they watched footage of their parents being arrested and their uncle writhing on the ground after being shot.
Many of her their responses to my questions seemed rehearsed." We want to liberate Palestine. We want to live as free people. The soldiers are here to protect the settlers and prevent us reaching our ground ," she told me. Her mothers seemed proud of her profile among anti-occupation activists, a view reinforced this week when Bassem described his daughter as" a representative of a new generation of our people, of young freedom fighter …[ She] is one of many young women who in the coming years will lead the resist to Israeli rule ."
Suggestions that Ahed's recent their relationships with the soldiers was partly for the benefit of the rolling camera, that her mom apparently "havent had" qualms about streaming it live on social media, and( in agreement with the Israel accusation) that the adolescent suggested that" whether it is a stabbing attempt or suicide bombing or hurling rocks, everybody has to do something and unite in order for our message to reaching those who want to liberate Palestine", strengthen a sense that the Tamimis are a highly politicised family.
Four years ago, alongside the fledgling activist who insisted to me she was not frightened of the armed soldiers she passed every day, there was a little girl anxious about being photographed near a military watchtower, and who- according to her mothers- sometimes hollered out in her sleep or woke up sobbing.
Ahed's experiences are echoed in the lives of hundreds of thousands of children in the West Bank and Gaza. Such a brutal context for childhood can shape postures for a lifetime. Frank Roni, a former child protection expert for Unicef in the Palestinian regions, said he had observed the" intergenerational trauma" of those growing up under occupation." The ongoing conflict, the deterioration of the economy and social environ, the increase in violence- this all impacts heavily on children. Children form a ghetto mentality and lose hope for the future, which fuels a cycle of desperation ," he said in 2013.
At 12, Ahed told me she wanted to become a lawyer when she grew up so she could fight for Palestinian rights. At 16 she could be facing a long prison sentence. Whatever the outcome of the Israeli judicial process, she appears certain to expend the next formative months of her life in prison, rather than studying for exams.
Her story is not just about one child, but a generation- two generations- without hope and security. Tragically and unforgivably, the same bleak prospects could await a third.
* Harriet Sherwood is the Guardian's belief correspondent, and former Jerusalem correspondent
Read more: https :// www.theguardian.com/ commentisfree/ 2018/ jan/ 02/ ahed-tamimi-israel-occupation-palestinian-trauma