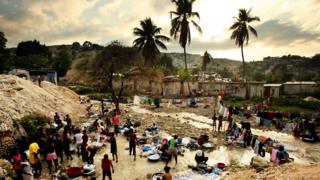 Oxfam's chief executive has denied there was any cover-up after it was revealed some of its assistance laborers use prostitutes in Haiti in 2011.
Mark Goldring said the UK-based charity was ashamed of what it had got wrong but had taken any steps and been proactive about going public on the matter.
At the time, the charity simply referred to it as "serious misconduct".
The Department for International Development, which committed Oxfam virtually PS32m last year, is reviewing funding.
Mr Goldring told BBC Radio 4's Today programme the charity did "anything but" cover the incident up, adding: "We were very open with the public that we were ashamed of the behaviour of our faculty. We still are."